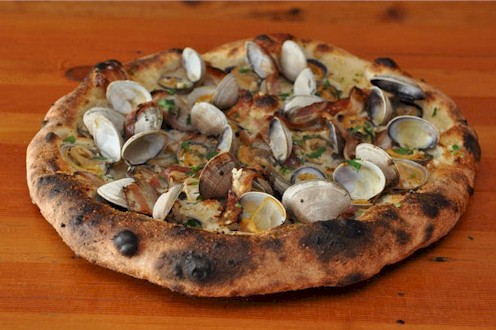 24 ounces (680 grams) sliced bacon
New York Pizza Dough (see recipe), made at least a day ahead
Spice Blend
1 head garlic, peeled and minced
4 teaspoons dried chili flakes
1 tablespoon dried oregano
1 tablespoon dried basil
1 tablespoon dried parsley, or 3 tablespoons minced fresh parsley
1 teaspoon dried marjoram or thyme
1⁄2 teaspoon kosher salt
1⁄4 teaspoon black pepper
45 Manila or cherrystone clams, in the shell
8 ounces (227 grams) Parmesan or Grana Padano cheese, grated (about 4 cups)
1⁄2 cup diced Italian parsley (for garnish)
The day before baking (or earlier the day of baking), preheat the oven to 400 degrees and lay out the strips of bacon on 2 (12 by 18-inch) sheet pans. Bake for 10 to 15 minutes, until the bacon is about three-quarters cooked, just beginning to brown but still limp.
Remove the pans from the oven and set them on the stovetop so the bacon can cool in its own fat. When the bacon strips have fully cooled, remove them from the pans and cut them in half crosswise to make shorter strips, then stack them on a paper towel- covered plate. Cover the plate with plastic wrap and chill until assembly. Save any residual bacon fat in a jar or container for later use. Three hours before baking, remove the dough from the refrigerator. Divide it into 3 (12-ounce/340-gram) pieces, then form the pieces into tight dough balls. Lightly mist a sheet pan or dough box with vegetable oil spray and place the dough balls on the pan or in the dough box. Mist the top of the dough balls with the oil spray and cover loosely with plastic wrap. Set aside to proof at room temperature for about 3 hours.
While the dough is rising, assemble the toppings and blend the spices.
Wash the clams and scrub them of all sand, draining off any excess water.
An hour before making the pizzas, place the baking stone or baking steel on the middle oven rack and preheat to 550 degrees, or as hot as the oven allows.
When it's time to bake the pizzas, make one at a time by stretching out a dough ball to about 14 inches in diameter. Lightly dust a pizza peel with flour, semolina, or cornmeal and lay the dough on the peel.
Distribute one-third of the grated cheese over the surface (about 11⁄3 cup), leaving a 1⁄2-inch border around the outer edge without cheese.
Then distribute 1⁄3 of the spice mixture over the cheese.
Lay out 15 clams over the surface, then drape 1⁄3 of the partly cooked bacon strips over the clams. Make sure the pizza slides easily on the peel; if not, dust additional flour underneath the crust.
Slide the pizza onto the baking stone and bake for 4 minutes.
Rotate 180 degrees and continue baking for an additional 2 to 4 minutes, until the crust is golden brown around the edge and on the underside.
The clams will have opened, with the juices dripping over the cheese and into the crust.
Transfer the pizza to a cutting board and garnish with 1⁄3 of the chopped parsley.
Slice and serve while you make the next pie.
Be sure to provide an empty bowl for the shells!
Makes 3 (14-inch) pizzas
This pizza was inspired by a clam pizza from Brian Spangler.