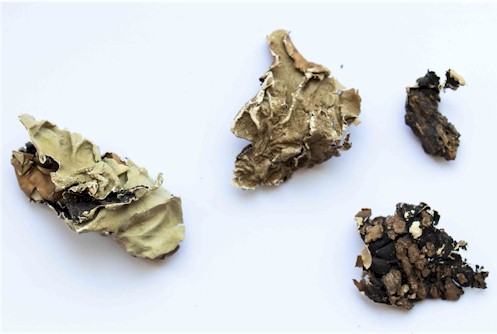 Presented by Priya Mani
Live from Denmark
This will not be simulcast on Facebook nor hosted on YouTube. 
If you are missing the meeting and wish to watch it later, 
please email culinaryhistorians@gmail.com for a link.
A talk by Priya Mani on gathered, edible lichens from the Indian subcontinent. It is hardly imaginable that a lichen scraped off tree barks in the sub-Himalayan forests is the decisive and defining ingredient of what we know and imagine as "spicy-Indian." Knowledge and use of stone flower that was for generations hidden in regional kitchens have suddenly found a nationwide use, albeit as a secret ingredient in readymade spice blends. Its lack of a specific aroma or describable flavour has meant that cooks struggle to explain its culinary role, yet noting its contribution to an extraordinarily complex flavour profile, sorely missed by its absence.

The first part of my talk will be about the stone flower lichen and its various uses across India's culinary landscape, and I will present some of my research into exploring its taste and effect on the cooking process.

The second part of my talk will focus on other lesser-known lichens used by indigenous tribes in the Himalayas and Nepal where the gathering,
preparation and consumption of the lichens is integral to their socio-cultural identity and relationship to their environment.

My exploration conveys the connection between food and drink,
environmental conservation, science and the cultures surrounding them.

About the presenter

Priya Mani is a designer and cultural researcher working to create
gastronomical experiences. She is based in Copenhagen. In her carrier, over the past 20 years, she has pursued the craft of culture, through textiles, technology and food. She is particularly interested in the human factor and has worked for over a decade in the area of design and innovation across industries. In the context of food, she has worked with large corporates and researched extensively on many aspects of food – development of traditional diets, choices, consumption, diabetes and obesity.

Priya started her career as a cultural anthropologist, living, studying and
documenting the Toda tribe in the Nilgiris for many years. She worked with UNESCO Parzor, studying Parsi heirloom textiles and authoring the very first monograph on Parsi Zoroastrian textiles. She subsequently wrote as a textile scholar for Peonies and Pagodas, Parsi Textiles in the Tapi Collection. (Thames &Hudson, 2010)

Since 2008, she has led research projects for many Danish companies like on various aspects of food consumption, the culture of the pantry and cooking and its impact on health. She is the author of many seminal reports.