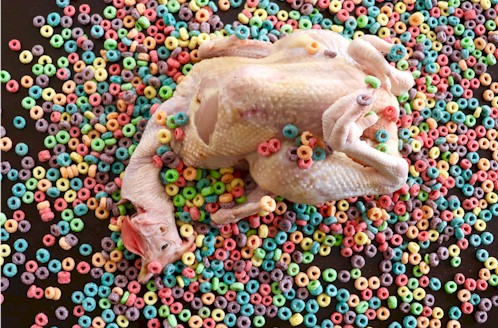 Presented by Students in
Foodcultura: The Art and Anthropology of Cuisine,
University of Chicago, Autumn 2019
In November we were treated to Maggi Galaxy, a presentation by Stephan Palmié, Professor of Anthropology at the University of Chicago and Antoni Miralda, Barcelona-based artist and founder of FoodCultura. The artist and anthropologist are collaborating on a Chicago-focused project exploring the intersection between food, art, and other forms of cultural exchange.
Look for a multi-day event at the Chicago Cultural Center in October 2020. The collaboration included Foodcultura: The Art and Anthropology of Cuisine, a team-taught course offered during the autumn of 2019 at the University of Chicago. The students, individually or in groups, proposed projects using approaches of anthropology and/or art and carried out extensive fieldwork using the city's diverse alimentary and gustatory resources. Their final presentations took place during a marathon session in December at UChicago's Gray Center for Arts and Inquiry.
On January 25 four students presented their work to Chicago Foodways Roundtable. Three presentations centered on the theme of sugar: Yoon-Jee Choi's analysis of cakes from Roeser's Bakery through the eyes of a Bauhaus historian; Alana Ferguson's musings on cotton candy as an art form; and Eli Bec's discussion of ofrendas prepared for Día de Muertos (Day of the Dead altars) and her own personal ofrenda. Maisie Watson and Daniel Simantob explored the intersection of public and private dining experiences at Sinhá, a Brazilian home-restaurant in Chicago and in their own apartment.
Part 2 of A Taste of FoodCultura, on February 15, will feature Paige Resnick exploring Chicago's live poultry shops and the many issues associated with selecting and preparing one's own chicken. Liz Rice will present her work comparing food choices in South Shore and Albany Park, two very different Chicago neighborhoods. Finally, although the student group responsible is unable to attend, we will show The Camera Eats First, a slide presentation commenting on today's Instagram culture.
Note: There might be changes in order, additions or deletions, so check the website for recent information.
***
Saturday, February 15, 2020 at 10 AM
Bethany Retirement Community
4950 North Ashland Avenue, Chicago 60640
(west of Clark St, north of Lawrence Ave)
Public transportation: CTA 22 Clark, 81 Lawrence, and 92 Foster buses stop nearby
Free street parking and a nearby parking lot
Cost: $3 (Free to Bethany residents and University of Chicago students with ID )
All are welcome!