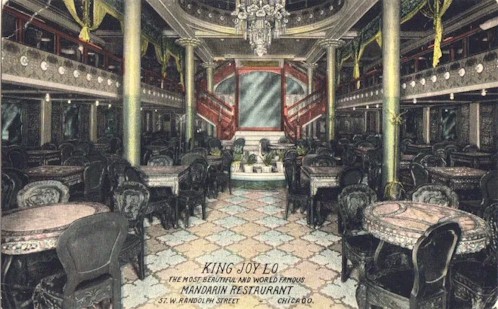 Tour lead by Soo Lon Moy,
Former President
Highlighting the struggles, resiliency, and entrepreneurial spirit of Chinese Americans, the exhibition chronicles the complex and often conflicting nature of Chinese Americans in America tying in its immigration history to the popularization of Chinese cuisine from chop suey to dim sum to spicy hotpot.
Culinary experts will recognize locally-connected restaurants and chefs showcased such as Bob Chinn's Crab House, Sun Wah BBQ, Tony Hu's Group; long-time standbys, Orange Garden Restaurant/Jade Cafe, Tong's Tea Garden, Mee Mah Restaurant, Triple Crown Restaurant, Friendship Chinese Restaurant; early pioneers, Guey Sam, Chiam, Chef Shangri-la, and King's Restaurants; and noted author and chef, Ken Hom CBE.
Their stories show their ambassadorship of Chinese culture and food in the U.S, as well as their contribution to Chicago as a major culinary city – including one where the hundred-year-old Chinatown is still vibrant and known as the only one to be still growing in the States. The exhibition covers the immigration of Chinese to America and how they survived, the formation of Chinatowns, the Era of Opulence, the diversity of later Chinese immigrants bringing with them their regional cooking, and current trends in Chinese cuisine.
Chop Suey Men / The Brothers Chen: Chen Yuke Thew, Suey, Foon and Fong by Phillip Chen
Exhibit closing June 25, 2023
Within the history of anti-Chinese legislation is the lesser-known story of the Chop Suey "joint" as a prime target of discriminatory practices in the late 19th and early 20th centuries. In recent decades, benign sentiments concerning Chinese restaurants have glossed the jagged and hateful terrain that my father and his brothers, all restauranteurs, landed upon. Archival research cannot disclose the nuanced emotional life; this exhibition focuses attention on the lives of four sojourners lost to historical haze, through artworks that call for prolonged perception, imagination, and judgment.
Each of the Chen brothers partnered with one another and worked interchangeably amongst three Chop Suey establishments:
Jade Cafe, 4027 W. Irving Park Blvd., Chicago, IL (1922-1976)
Orange Garden, 1942 W. Irving Park Blvd., Chicago, IL (1927-present)
Oriental Garden, 120 W. Washington Blvd., Ft. Wayne, IN (1939-1956)
About the Artist
Phillip Chen received his undergraduate degree in Studio Art from the University of Illinois at Chicago and a graduate degree in Print Media from the School of the Art Institute of Chicago. His prints have been exhibited extensively throughout the United States and abroad and are held by public collections that include the Brooklyn Museum, New York Public Library, Carnegie Institute Museum of Art, Art Institute of Chicago, and San Francisco Museum of Fine Arts. He has served as an evaluator for the National Endowment for the Arts, College Art Association, and the John D. and Catherine T. MacArthur Foundation. His creative activities have been supported by the National Endowment for the Arts, Louis B. Comfort Tiffany Foundation, Pollock-Krasner Foundation, and others. In 2018 he was named a fellow of the John Simon Guggenheim Foundation.
Phillip Chen is the Ellis and Nelle Levitt Distinguished Professor of Art at Drake University, where he teaches drawing and printmaking.
Chinese American Museum of Chicago
238 West 23rd Street, Chicago, Illinois
Directions
Plan to arrive early to look for parking.
Fee to museum: $8, $5 for students and those 65 or older
Reserve to CulinaryHistorians@gmail.com
*Please note that oversized bags, large handbags, backpacks, food and drinks are not allowed in the galleries. They can be left at the front desk.