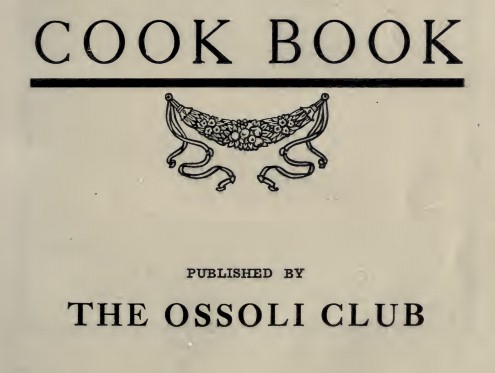 Presented by Highland Park Public Library's Cookbook Club
with Highland Park Historical Society and Us!
Now a little history on the Ossoli Club:
The Ossoli Club of Highland Park started in the rooms of the Highland Park Club House (HPCH) in 1894. Efforts to begin a woman's club at the HPCH were met with skepticism until George Boulton declared that it was "only a fad," and to let them amuse themselves. The initial name was 'The Monday Club.' Six months later, following a national trend, they renamed themselves the 'Ossoli Club' in deference to Margaret Fuller (1810-1840), a transcendentalism writer. Ida (Mrs. Daniel) Cobb, charter member and president (1898-1900), wrote, "Previous to the year 1894, Reading Clubs afforded the only mental stimulus in Highland Park and little coteries of women with similar tastes would meet and discuss the subjects of the day…until we decided Highland Park could no longer afford to be without a woman's club."
Another keystone accomplishment of the Ossoli Club was the establishment and maintenance of the first public beach* in Highland Park in 1911. The Club maintained the beach, provided swimming lessons, play equipment in the sand and in the water, changing rooms, chaperones, and lifeguards from the Young Men's Club; with yearly improvements until the City and Park District took over those responsibilities. Funds from the sale of this cookbook were used for these yearly improvements.