Presented Erik Schultz, Long time reenactor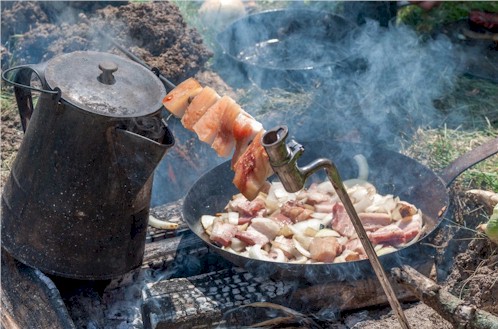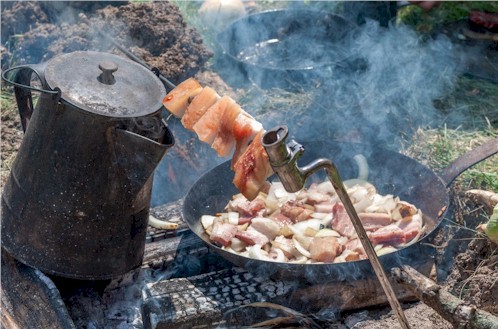 Erik Schultz spoke on food of the Civil War in July this year. Now it is your opportunity to participate in a Civil War Camp Cooking tour guided by Erik.
Schulz has been a re-enactor for over 30 years and has lead camp cooking tours. As we walk between encampments, Erik will regale us with his experiences. Often the conversation during the journey is just as educational as the encampments we visit.
We will visit impressions reenactors have created for our education on life as a Civil War soldier. This is an annual event, because the tour is always fresh and dynamic. By design the cooks tour not just tests the culinary skills of the reenactors, they emphasize authenticity.  Each camp is responsible for their menu and bring whatever material they deem correct to their impression.  Emphasis is placed on the accuracy of the meal to the overall camp impression.
Those on the tour will act as judges noting how the food was obtained, what implements were used in the preparation, what the camp represents and the consistency of the meal to that impression.  Each camp explains what their impression represents, where they are camping, and any other information consistent with their impression.
These tours provide another aspect of life during the Civil War.  Contemporary people take for granted the ability to walk into a grocery store and purchase fresh fruits and vegetables regardless of season.  This was not how life was lived 150 years ago.  When reenactors prepare their meal, they consider what could reasonably be available to their impression.   The reenactors desire is to help educate guests on a soldier's everyday life during the Civil War.
Sunday, October 20, 2019 at 11:30 AM – 1:00 PM (meet at barn)
Note: Event runs from Saturday: 10 AM – 4 PM, Sunday: 9 AM – 3 PM
Complete schedule of activities
Site map and key
Hainesville Civil War Encampment and Battle
Northbrook Sports Club, 200 South Hainesville Road, Hainesville, IL 60030
Admission: Free
Parking: Cars: $10, Motorcyles: $5
Location:
Site for the event is on the north end of the Northbrook Sports Club property, 200 South Hainesville Road, Hainesville, Illinois 60030. At the intersection of Belvidere Road (US route 120) and Hainesville Road, turn south. Stop just north of the RR tracks at the Parking Fee/Information Booth to pay parking fee ($10 cash/vehicle or $5/motorcycle) and receive the event program.
Then carefully cross the railroad tracks and move further south where you will be directed to the visitors' parking area. Parking for the handicapped, re-enactors, presenters, media, food vendors and EMS is further south.
Signs are posted throughout the event site to direct visitors to the various activities. A site map is also included in the event program. All activities can be accessed by walking. Golf carts are available to transport the handicapped as needed. A hay wagon is available about 15 minutes before the battle to transport individuals from the presentation barn area north to the battlefield which is within walking distance.
Questions. please e-mail: greatermidwestfoodways@gmail.com.
The Greater Midwest Foodways Alliance is dedicated to celebrating, exploring and preserving the American Midwest's unique food traditions and their cultural contexts.